Best Practices
SOLO has always been a front runner in adopting programs or practices leading to improvement in systems or work environment and the spirit of continual improvement is present company wide.
Some of the Good-Practices followed at Solo are:
TPM - TPS - 5S - KAIZEN - QUALITY CIRCLES - RED-BIN ANALYSIS - POKA-YOKE - SPC - MSA - APQP - PPAP - JUST IN TIME - INVENTORY CONTROL.
CLUSTER APPROACH
Solo is a part of numerous clusters to get training inputs in a group environment. This helps in constant benchmarking of processes against peer-groups and also in maintaining a healthy competitive spirit.
TPM
In FY 03-04 SOLO joined the cluster group of Sona Koyo for Total Productivity Maintenance to acquire guidance for implementing TPM activity and related Japanese Best Practices in the organization.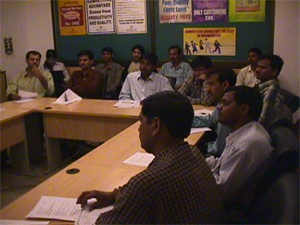 ECOPROFIT
In FY05-06 we joined the ECOPROFIT cluster of STENUM, Austria to enhance Solo's efficiency by reducing the demand of raw materials and energy and to minimize the environmental impacts.
MACE
In FY05-06 we joined the Maruti Centre for Excellence cluster with the objective of achieving World Class Levels in terms of Quality, Cost and Technology Orientation.